Fun studio. Music videos – become a star!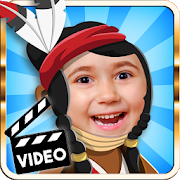 Fun studio is a great, free app. Real happy studio for you. Inside of the application you will find amazing music videos with cowboys, pirates, monsters, knights and many more! Make music video with your participation. Become a rock star and give your concert! Watching music videos will make you so much fun. You'll be a superstar! Make your dreams come true. Have fun with your friends. Record a music video together. Our application is a real happy studio for recording music video for everyone.
How to play:
– Select music video,
– Choose number of players,
– Take photos of your face. Make faces that are shown in the picture.
– Watch music video and have fun.
In case of any problems with the effect of Fun Studio, instead of giving us the negative opinion, please send us an e-mail and review briefly the problem. It will help us to solve it in the next updates of application.
Fun Studio is free but contains ads inside the application. Revenue from advertising will help us to create new attractive games and applications. All permissions are required only for advertising and are supported by trusted vendors.