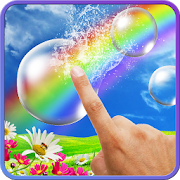 Bubbles smasher it is cool, free game. Start your adventure with a Bubble smasher now!
How to play:
You must smash the bubbles.
For each smashed bubble you get points.
Tap the bubble to smash it.
Avoid butterflies, flies, birds, bees and wasps – do not touch them!
Tap the 3 insects or 3 birds or miss 3 bubbles – the game will be over.
Smash the bubble with heart inside – you will get an extra life.
In case of any problems with the effect of Bubbles smasher, instead of giving us the negative opinion, please send us an e-mail and review briefly the problem. It will help us to solve it in the next updates of game.
Bubbles smasher is free but contains ads. Revenue from advertising will help us to create new attractive game, wallpapers and applications. All permissions are required only for advertising and are supported by trusted vendors.