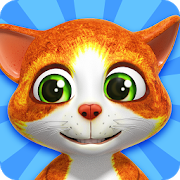 Cat – your virtual pet. Make your dream come true and adopt a virtual cat. This kitten needs your care. Look after him and help him grow. This lovely pet needs to be taken care of every day. Feed him, clean him and don't let him feel lonely. Make your virtual cat smile all the time.
Application functions:
– Change the appearance of your virtual cat – there are a lot of different hats, glasses and 3D T-shirts to choose from. You can also change the colour of your cat's fur and eyes.
– Decorate each room at its home – there are numerous types of furniture, decorations, wallpapers and floors to choose from. There is all you need to furnish a cosy place.
– Record your songs and let the virtual cat sing them.
– Stroke and touch the cat and you will see how it can react.
– 13 funny mini games – play and collect the coins:
Color Tap – tap on cats' heads until they are the same color
Skateboard ride – use double tap or single tap to avoid obstacles
Cake Tower – make the highest cake
Connect – connect hearts of the same color
Memory – match all pairs
Coloring – use your favorite colors to paint pictures
Free Fall – move your phone and avoid clouds
Sky Hop – jump to the left and right, avoid clouds
5 in line – place 5 or more balls of the same color vertically, horizontally or diagonally to score points
Bubble smasher – press the bubbles to let them burst and collect the coins,
Tic Tac Toe – the winner of the game is somebody who succeeds in placing their marks in a horizontal, vertical or diagonal row,
Flying Cat – avoid obstacles and collect the coins,
Flappy Cat – touch the screen and avoid obstacles.
In case of any problems with the effect of cat – virtual pet, instead of giving us the negative opinion, please send us an e-mail and review briefly the problem. It will help us to solve it in the next updates of app.
Cat – virtual pet is free but contains ads inside app. Revenue from advertising will help us to create new attractive wallpapers and applications. All permissions are required only for advertising and are supported by trusted vendors.