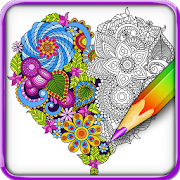 Coloring is a cool, free application for children and adults to have fun. Coloring help people release the stress and feel better. Inside of the application you will find beautiful drawings to color. You can fill them with a tap, or paint brush. If you make a mistake, just undo or use an eraser. Coloring can be played anytime and anywhere! All setting and controls are easy to use for everyone.
Coloring features:
– 6 categories of pictures: abstracts, animals, mandalas, florals, hearts, others
– Lots of pictures to coloring. New images every week!
– unlimited color palette
– brush mode
– eraser
– undo feature
– zoom feature
Experiment with colorful palettes. Use your favorite colors to paint hearts, flowers, animals or other available images. You can save your completed drawings and set them on screen of your phone. You can create a couple of versions of the same drawing! You can also show off your drawing on Facebook. Relax and be creative.
In case of any problems with the effect of coloring, instead of giving us the negative opinion, please send us an e-mail and review briefly the problem. It will help us to solve it in the next updates of app.
Coloring is free but contains ads in settings of the wallpaper and inside app. Revenue from advertising will help us to create new attractive applications. All permissions are required only for advertising and are supported by trusted vendors.