Electric stun gun – simulator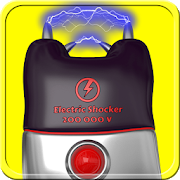 Electric stun gun – simulator is a fun, free application to have fun. The application only simulates a stunner and is used for entertainment purposes. Stun gun is very easy to use. All you have to tap a button on stun gun, and the phone will light up, vibrate and make sounds that simulate electric shock.
Inhibitor features:
– Seven models 3D of stun gun – to choose from,
– Three sounds of stun gun – to choose from,
– You can set as a background for stun gun: transparent screen, image from your gallery or any color.
The application uses the flash lamp of the front camera and the display of your phone.
In case of any problems with the effect of electric stun gun, instead of giving us the negative opinion, please send us an e-mail and review briefly the problem. It will help us to solve it in the next updates of app.
Electric stun gun is free but contains ads inside app. Revenue from advertising will help us to create new attractive wallpapers and applications. All permissions are required only for advertising and are supported by trusted vendors.