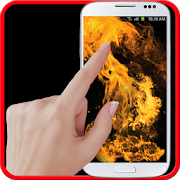 Fire screen live wallpaper and app for joke – two in one. Create your own fire screen.
In application you can find:
Live wallpaper with many options.
Application to make joke.
How to set live wallpaper:
You can choose background made by us or create own fire screen. If you want create own fire screen you can choose:
type of flames,
colour of background,
size of flames.
Touch the screen and you will hear sound of fire and you will see realistic flames. If you want remove flames – make double click on them.
One touch of screen – fire shows up
Double click on fire – fire disappears
How to use of application:
If you want to draw using flames choose option: draw flames
If you want that fire shows when you blow on the screen, choose option: blowing
You can make a joke your friends – set option: start fire screen in settings of applications and give your phone a friend. After touching the screen, friend will hear the sounds of the fire and will see flames under the finger.
In case of any problems with the effect of fire screen, instead of giving us the negative opinion, please send us an e-mail and review briefly the problem. It will help us to solve it in the next updates of fire screen application.
Fire screen is free but contains ads inside application. Revenue from advertising will help us to create new attractive wallpapers and applications. All permissions are required only for advertising and are supported by trusted vendors.