Halloween: Ghosts vs Zombies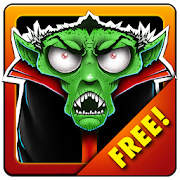 Ghosts vs Zombies is a free arcade game for Android devices.
Save Igor before the furious Dracula! 
Hit the Ghosts and Zombies to avoid the battle. 
Every battle is a one brain less.
If you lose all your brains – you lose a job for Dracula!
– Bring the silence!
– Protect brains!
– Improves reflex and perception
– Funny graphics, modern look, cool classic gameplay
– Challenge for a time!
– Free android game
– Unlimited time! 
– Ghosts and Zombies appear faster every second!