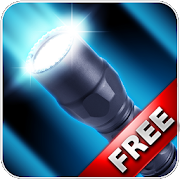 Mobile Flashlight PRO is a very useful application that turns any phone or tablet into a flashlight.
Now you can have a flashlight always with you!
The application has a very fast startup time LED flash, immediately emits a bright light!
In addition, it is equipped with many useful effects of light and battery level indicator.
The application interface impresses with high-quality graphics applied.
The application looks very professional and it is also very fast, easy and intuitive to use.
Application Features:
– LED flashlight
– Very short run Flash LED
– Screen flashlight
– Change color of screen light – change by dragging your finger across the screen
– LED strobe
– Strobe screen
– Change the speed of light strobe
– Warning lights
– Police lights
– Battery level indicator