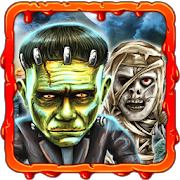 Become the monsters buster, complete all missions and save the world. You have 9 missions in 9 worlds. In each of these worlds there are different monsters to defeat. Ghosts, vampires, mummies, zombies, even aliens. Monster Smasher is an amazing game. It is also completely free. You will find there wonderful graphics, a lot of worlds, monsters and different types of weapon. Take up the challenge and save the world from the monster invasion. Get through all 225 levels! Be careful, this game is really addictive!
How can you play it? It's simple:
– touch the monsters to smash them
– you can use three types of weapon
– watch carefully, don't touch some characters – it will make you lose one life
– don't miss any single monster – unsmashed monster will cost you one life
– when all the monsters are gone, you finish your level and go to the next one.
In case of any problems with the effect of Monster Smasher, instead of giving us the negative opinion, please send us an e-mail and review briefly the problem. It will help us to solve it in the next updates of Monster smasher game.
Monster Smasher is free but contains ads inside application. Revenue from advertising will help us to create new attractive games and applications. All permissions are required only for advertising and are supported by trusted vendors.