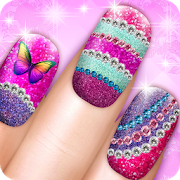 Nail Salon it is a great, free application. Take the chance to design your dream fingers. In Nail Salon you can create your own nail art designs. Show off your skills and style! Inside application you will find many options. Choose from lots of different shapes of nails, nail polishes, stickers and diamonds. Some of the decorations are animated. Complete your stylizations beautiful bracelets and rings. If you are little crazy put on hand amazing tattoos.
Features:
– 10 categories of nail polishes – many colors and textures!
– 5 skin tones
– 6 nails shapes
– 31 backgrounds
– 38 nails designs
– 35 bracelets
– 37 rings
– 50 tattoos – also animated !
– 80 cute stickers
– 41 animated diamonds
Start your adventure with Nail salon and explore your creativity.
In case of any problems with the effect of Nail Salon, instead of giving us the negative opinion, please send us an e-mail and review briefly the problem. It will help us to solve it in the next updates of application.
Nail Salon is free but contains ads inside the application. Revenue from advertising will help us to create new attractive games and applications. All permissions are required only for advertising and are supported by trusted vendors.