Number Coloring – Coloring book for adults & kids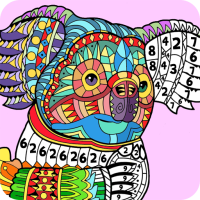 Number coloring 🎨 is free coloring games. Coloring book 🎨 is anti-stress application for children and adults to relax 😂. Number coloring help people release the stress and feel better. Inside of the application you will find beautiful pictures to coloring. Create own artworks. It's really easy, choose suitable color and click to right place. Color by number can be played anytime and anywhere! All setting and controls are easy to use for everyone.
Number coloring features:
– Lots of pictures to coloring sorted by category,
– Color and recolor pictures as many time as you want,
– Zoom feature,
– Undo feature,
– Saving pictures to gallery,
– The ability to set the drawing as a wallpaper.
– Family-friendly content: coloring anti-stress pictures suits for both adults & kids
– Perfect relaxing way to become the master of your own mind
Choose your favorite pictures with animals 🐱 🐩, flowers 🌷🌼 🌹, landscapes, hearts 💚 and many more. Share your artworks with friends on Instagram or Facebook! If you lack some pictures email us, we'll add it to the update.
In case of any problems with the effect of Number coloring, instead of giving us the negative opinion, please send us an e-mail and review briefly the problem. It will help us to solve it in the next updates of app.
Coloring book for adults and kids is free but contains ads in settings of the wallpaper and inside app. Revenue from advertising will help us to create new attractive wallpapers and applications. All permissions are required only for advertising and are supported by trusted vendors.