Summer, butterfly lock screen.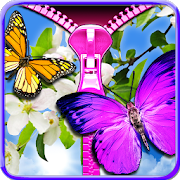 Summer and butterfly lock screen with effects generated in the Open Gl. Summer and butterfly lock screen is a fun and free application for entertainment purposes. You can use the application to lock your phone screen. Summer and butterfly lock screen is very easy to use. You can choose from a zip lock or PIN.
How to use the application:
– PIN lock screen:
Set a PIN containing a maximum of four numbers in the settings section of the application. To unlock your phone, enter the PIN.
– Zipper lock screen:
All you have to: drag the slider down and the phone screen is unlocked.
Summer and butterfly lock screen, features:
– 16 colored sliders,
– 40 fantastic pendants to choose from: roses, leaves, stars, lightning, dragon, dollar, diamond heart, skull and many others,
– 8 keyboard to enter a PIN: transparent, gold, metal, glass, wood,
– As background, you can set one of 30 backdrops prepared by us or a picture from your own gallery.
– Amazing Open Gl effects:
– Animated rain,
– The effect of water – in order to achieve the effect of water slide your finger on the screen,
– 5 types of colorful butterflies,
– 10 types of flower petals,
– 6 types of bubbles,
– 4 types of leaves,
– Flashing particles,
– Flashing stars,
You can set only those elements that you like. You can change size, speed and amount of the additional elements. The final look of lock screen depends entirely on you. Summer and butterfly lock screen is fully interactive, all objects react to your touch.
In case of any problems with the effect of Summer and butterfly lock screen, instead of giving us the negative opinion, please send us an e-mail and review briefly the problem. It will help us to solve it in the next updates of lock screen application.
Summer and butterfly lock screen is free but contains ads inside application. Revenue from advertising will help us to create new attractive wallpapers and applications. All permissions are required only for advertising and are supported by trusted vendors.