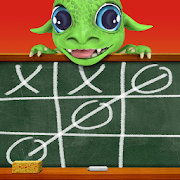 Tic Tac Toe with dragon it is cool, free game. The game rules are very simple. The winner is a person who first set signs vertically, horizontally or diagonally. Tic Tac Toe with dragon is perfect game for people of any age. Inside, you will find amazing graphics and funny dragon as an assistant.
Features:
– Two modes of play:
• Single Player – 3 difficulty levels (easy, medium and hard)
• Two Players – you can play with your friends
– 5 different game boards with dragon (stone, page from notebook, sand, black board, green board)
In case of any problems with the effect of Tic tac toe with dragon, instead of giving us the negative opinion, please send us an e-mail and review briefly the problem. It will help us to solve it in the next updates of game.
Tic tac toe with dragon is free but contains ads. Revenue from advertising will help us to create new attractive game, wallpapers and applications. All permissions are required only for advertising and are supported by trusted vendors.